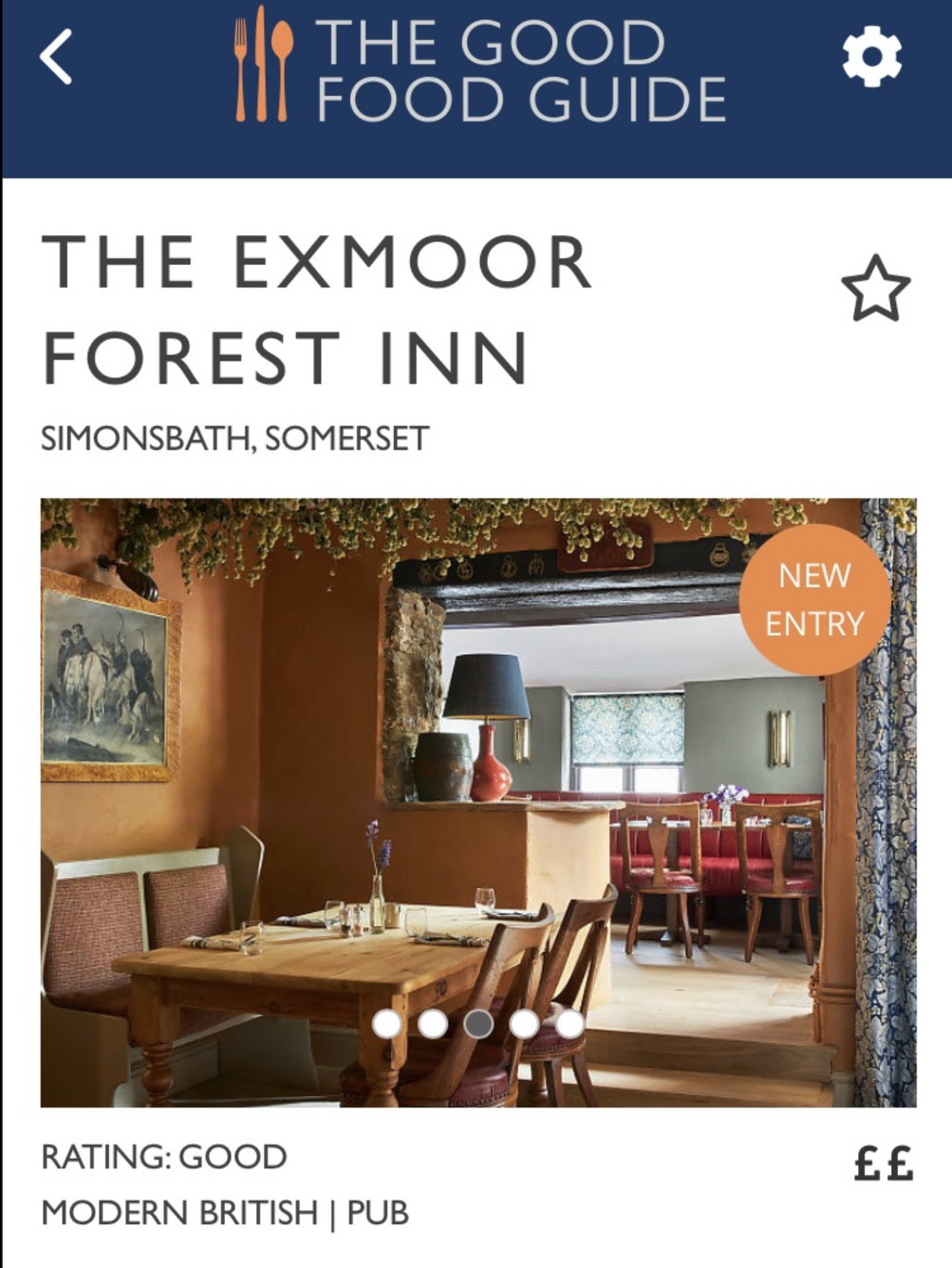 We are excited to have been reviewed and included in the Good Food Guide 2022. The reviewers visited unannounced soon after we refurbished and re-opened in Spring 2022.
We continue to strive to improve and innovate in offering the best food Exmoor has to offer and are proud of what our head chef Ben Ogden and his team have achieved in opening the restaurant on the back of the pandemic and with the ongoing difficulties facing all hospitality businesses at present.
Please see below for the full text of the Good Food Guide 2022 review.
'When a Farrow and Ball palette and open fires meet the huntin', shootin' and fishin' set, visitors can expect gutsy dishes, confident cooking and a cosy welcome. The estate and farms surrounding this Devon inn have been in the Greenall family (of Greenalls Brewery fame) for nearly 20 years, but the the pub itself was only purchased and 'reunited' with the rest of the estate in 2021 when it was taken over by Ed Greenall – thus ensuring minimal food miles for their own Exmoor beef, lamb and venison.
Local day-boat fish and market garden vegetables are also rightly celebrated in starters such as torched mackerel with beetroot and radish or purple sprouting broccoli tempura with goat's labneh. While chef Ben Ogden's daily changing, cooked-to-order menu has something for everyone, meat lovers will rightly salivate at the thought of a perfectly pink hogget rack, its flavoursome fat artfully rendered, simply served with crispy potatoes, pickled cabbage and a punchy salsa verde.
It's hearty food, full of flavour but certainly not without finesse – the perfect complement to the lively discussions about the rural economy or moorland walking that animate this comfortable space. Desserts range from a light milk ice cream with homemade wild strawberry and elderflower condiment to the comfort-laden fried bread pudding with butterscotch and foraged local blueberries. With the owner's family connections to the drinks industry, it's perhaps unsurprising that the wine and bar offerings punch above their weight. A benchmark for honest rural hospitality.'
OVERALL RATING: GOOD
Uniqueness: Good
Deliciousness: Very Good
Warmth: Very Good
Strength of recommendation: Good